The GhanaCard is finally here. It has been stated that the GhanaCard will be the only valid form of identification when the issuance is completed in a year.
Some of the features of the GhanaCard include several layers of security features of most advanced Electronic Identity Documents Additionally, tactile elements for the blind (braille), chip embedding technology and iris capabilities, in addition to taking all 10 fingerprints of an applicant.
The President, Nana Akufo-Addo, has stated that the rollout of the National Identification Card, dubbed the "GhanaCard", signals a new era in biometric identity management in Ghana and brings to an end the proliferation of biometric systems by other government agencies that are mandated by law to access information from the National Identity Register.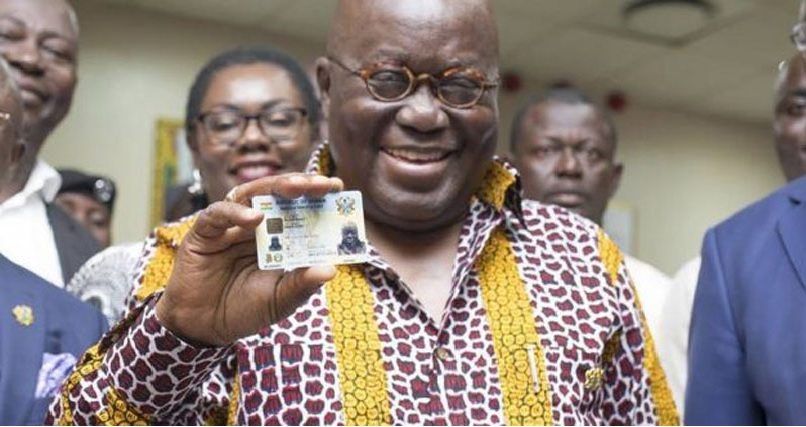 The GhanaCard project is a collaboration between the National Identification Authority (NIA) and the Identity Management Systems (IMS).
The President stated the card would ultimately replace all other identity cards in circulation, thus making it the only card to be used in transactions where identification is required as provided by law.
National Rollout
The government plans to begin issuing the new GhanaCard in November. This is a month later than the originally scheduled September. The rollout was rescheduled for the digital addressing system to be fully deployed.
The exercise is hoped to be completed within a year after the November launch date. The registration exercise would include adults as well as children from 0 to 5 years.
Ghanaian citizens who are 15 years and above will be issued dual interface smartcard but children from the ages of 0 to 14 would be issued with two-dimensional derivative (2D) barcode cards. At the age of 15, they would be issued with an official GhanaCard.
GhanaCard Features
Braille Feature
The new Ghanacard has been designed to assist individuals with visual challenges. The GhanaCard will have some tactile features (eg Braille) for the visually handicapped to be able to use it.
Travel Across ECOWAS
The GhanaCard will enable citizens to use their cards as a form of identification for traveling to ECOWAS member countries.
Link To Bank Account
Another of the GhanaCard's features is the ability to be linked to a user's bank account and can be used for payments.
10 Year Period
The GhanaCard will be used for 10 years before it expires. After that, users will have to pay a fee for a new one.
---
Ghanaians abroad will also be able to register for the new GhanaCard at a fee wherever they are.
For the general public in Ghana, registration will be free but large institutions can request for the services of mobile vans to register them at their offices at a fee.
Agencies On Board
State agencies such as the National Health Insurance Scheme (NHIS), Free Education and Youth Employment programmes, Passport Office, Driver and Vehicle Licensing Authority (DVLA), and the Ghana Revenue Authority (GRA) will all accept the new GhanaCard for identification when the card has fully been rolled out.
Comments
comments